Memorial Day is observed on the last Monday of May, honoring the men and women who died while serving in the United States military.
But this hasn't always been the case. Memorial Day grew from a tradition known as Decoration Day.
The Civil War claimed more lives than any conflict in U.S. history.
More than 600,000 soldiers from both the Union and Confederate armies fell during the war,
leading to the establishment of our country's first national cemeteries.
By the late 1860s, Americans across the country were holding springtime tributes
to their fallen loved ones, decorating their graves with flowers and reciting prayers.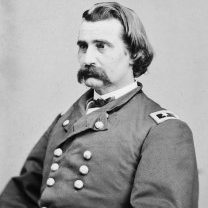 "The 30th of May, 1868, is designated for the purpose of strewing with flowers, or otherwise decorating the graves of comrades who died in defense of their country during the late rebellion, and whose bodies now lie in almost every city, village and hamlet churchyard in the land."
GENERAL JOHN A. LOGAN
On the first Decoration Day, General James Garfield made a speech at Arlington National Cemetery,
and 5,000 people gathered to decorate the graves of 20,000 Civil War soldiers buried there.
Memorial Day, as Decoration Day gradually came to be known,
originally honored only those lost while fighting in the Civil War.
But during World War I the United States found itself embroiled in another major conflict,
and the holiday evolved to commemorate American military personnel who died in all wars.
The National Moment of Remembrance is an annual event that asks Americans,
wherever they are at 3:00 p.m. local time on Memorial Day,
to pause for one minute to remember those who have died in military service to the United States.
History courtesy of the NATIONAL VETERANS MEMORIAL AND MUSEUM
nypd fallen angels
members lost in battle
While serving our nation during times of war,
forty seven members of the New York City Police Department died during that service.
One surgeon, one detective and forty five Patrolmen/Police Officers.
On this Memorial Day, let us all take a few moments
to remember these brave men who sacrificed their lives yesterday,
so that we can live in freedom today.
God bless them all. Continue to rest in peace our Brothers.
PO Gary Gorman, ESU Retired
Afghanistan War ( 2 MOS)
Detective First Grade Joseph G. Lemm
December 21, 2015
Sergeant, Air National Guard
Police Officer Deon L. Taylor
October 22, 2008
Sergeant, National Guard
Iraq War (1 MOS)
Police Officer James McNaughton
August 2, 2005
Staff Sergeant, U.S. Army
Vietnam War (1 MOS)
Patrolman Daniel J. Sullivan
July 6, 1967
Sergeant, U.S. Marines
Korean War (1 MOS)
Patrolman Arthur J. Nealon
October 26, 1951
Captain, U.S. Army
World War II
Patrolman Joseph L. C. Heinrich
October 11, 1945
Lieutenant, U.S. Naval Air Corps
Patrolman William H. Russell
September 4, 1945
2nd Lieutenant, U.S. Army Air Corps
Patrolman John J. Fahy
April 23, 1945
Private 1st Class, U.S. Army
Patrolman Joseph F. Myers
April 9, 1945
Private 1st Class, U.S. Army
Patrolman Robert Steinberg
March 23, 1945
Boatswain's Mate 2nd Class, U.S. Navy
Patrolman James A. F. McCullough
March 18, 1945
Technical Sergeant, U.S. Army
March 18, 1945
1st Lieutenant, U.S. Army Air Corps
Patrolman Peter P. Vergano
February 27, 1945
Private 1st Class, U.S. Army
Patrolman Vincent J. Riemer
January 24, 1945
2nd Lieutenant, U.S. Army Air Corps
Patrolman William A. Burke Jr.
December 30, 1944
2nd Lieutenant, U.S. Army Air Corps
Patrolman Herbert J. Brauchler
December 29, 1944
Captain, U.S. Army
Patrolman Harry R. Darde
October 30, 1944
Water Tender 2nd Class, U.S. Navy
Patrolman James B. Doherty
October 24, 1944
Shipfitter 3rd Class, U.S. Navy
Patrolman James S. Clinton
September 22, 1944
Private 1st Class, U.S. Army
Patrolman Ernest Thompson
September 20, 1944
1st Lieutenant, U.S. Army
Patrolman Edward J. Catalano
September 9, 1944
Private, U.S. Army
Patrolman Charles J. Licata
August 27, 1944
1st Lieutenant, U.S. Army
Patrolman James J. Freely
August 14, 1944
Boatswain'S Mate 1st Class, U.S. Navy
Patrolman William T. Johnson
July 2, 1944
Staff Sergeant, U.S. Army Air Corps
Patrolman William R. Ronaghan
June 30, 1944
2nd Lieutenant, U.S. Army Air Corps

Patrolman Thomas Brady Jr.
January 11, 1944
1st Lieutenant, U.S. Army Air Corps

Patrolman Joseph J. Connelly
October 16, 1943
Aviation Machinist's Mate U.S. Navy
Patrolman Thomas G. Abbey
September 6, 1943
Captain, U.S. Army Air Corps

Surgeon Maurice M. Berck
January 4, 1943
Captain, U.S. Army Medical Corps
World War I (18 MOS)
Patrolman William J. Gillen
January 14, 1919
Sergeant, U.S. Army
Patrolman Michael F. Donohue
December 14, 1918
U.S. Army
Patrolman Joseph A. Nekola
December 9, 1918
Private, U.S. Army
Patrolman Albert A. Justis
November 11, 1918
Private, U.S. Army
Patrolman James A. Swan
November 5, 1918
Corporal, U.S. Army
Patrolman William F. Hopkins
October 28, 1918
Corporal, U.S. Army
Patrolman John B. Endres
October 18, 1918
Private, U.S. Army
Patrolman Joseph A. Hall
October 16, 1918
Private, U.S. Army
Patrolman Edmund H. Hanf
October 16, 1918
U.S. Army
Patrolman Bernard Lynch
October 16, 1918
Storekeeper 3rd Class, U.S. Navy
Patrolman William E. Sheridan
October 1, 1918
Corporal, U.S. Army
Patrolman John F. O'Dea
September 29, 1918
Sergeant, U.S. Army
Patrolman James A. Shortall
September 29, 1918
Corporal, U.S. Army
Patrolman August J. Schuessler
September 27, 1918
Sergeant, U.S. Army
Patrolman James P. O'Connor
September 26, 1918
Private, U.S. Army
Patrolman John F. Harmon Jr.
September 23, 1918
Seaman 2nd Class, U.S. Navy
Patrolman Robert A. Slattery
September 14, 1918
Corporal, U.S. Army
Patrolman Samuel Birney
February 27, 1918
U.S. Army